Over-the-Bed DIY Pyramid Kit
Pyramid Over-the-Bed & Chair Kits
All our Over-the-Bed and Chair units are easily assembled and suspended from the ceiling. They offer a splendid environment for creative thought… meditating… sleeping or just relaxing after a strenuous day. The Over-the-Bed/Chair Pyramid-Form energies fully radiate throughout the sleeping/resting area.
This Full Do It Yourself Pyramid Kit (P208) contains: (a) Four Base Corners and Connecting Apex in a copper mosiac finish; (b) Eight (pre-cut) copper tubing frameworks; and (c) Pyramid ceiling attachments.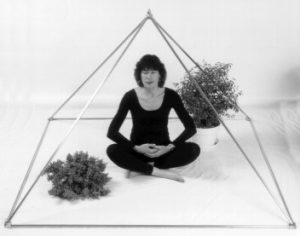 Meditators in all lands continue to enjoy new depths of relaxation and inner peace while sitting inside an Open-frame Pyramid. To help you build your own Pyramid, according to the base size measurements that best suit your personal needs, we offer the Pyramid Connecting Corners Kit. Having the flexibility to determine the size of your Pyramid Model, be it in the home or outside, has proved very popular. No more having to accept the limitations of aspecific size from a supplier.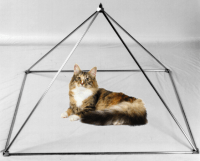 Pyramid enthusiasts from all over the globe are enjoying their Pyramid Kits. They use it for meditation, or to enhance nutritional, horticultural and agricultural growing efforts, along with tests involving foods, liquids and biological preservation experiments of all types.
Manufactured in the USA