Pyramid Connecting Corners – Copper Plated
Pyramid Connecting Corners Kits
Many people would like to build their own pyramid, but have difficulty in arriving at the exact angles and connecting the constructing parts. We are proud to present the most precise and finest Connector Kit on the market, enabling you to erect your own pyramid in any size you desire. The Apex and Corners are fabricated to an exact 51º – 51′ conforming to the precise angles of the Great Pyramid in Egypt.
Your Connector Kit contains five Copper powder coat plated, Hand-Crafted, Precision Engineered Corners. Very durable!
Complete instruction for measurements and assembly included.
Note: Copper tubing not included. You will need to purchase 5/8″ outside diameter Copper Tubing from your local metal supplies dealer or hardware store.
Photo – Pyramid kit assembled with tubing (not included).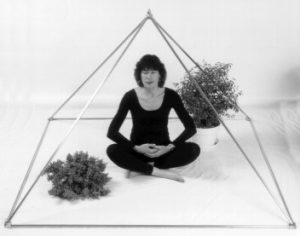 Meditators in all lands continue to enjoy new depths of relaxation and inner peace while sitting inside an Open-frame Pyramid. To help you build your own Pyramid, according to the base size measurements that best suit your personal needs, we offer the Pyramid Connecting Corners Kit. Having the flexibility to determine the size of your Pyramid Model, be it in the home or outside, has proved very popular. No more having to accept the limitations of aspecific size from a supplier.
This unique Pyramid Connecting Corners Kit has received wide international acclaim. With skilled craftsmanship it is designed, precision engineered (with measurements scaled to those of the Great Pyramid) and machined in the USA. Please note the Kits are made from 1" inch thick aluminum plate for maximum quality, strength and durability. This superiority in the manufacturing material is a must to ensure a solid, safe structure for your use.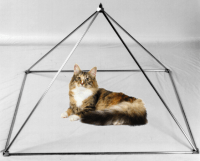 Pyramid enthusiasts from all over the globe are enjoying their Pyramid built from this Connecting Corners Kit. They use it for meditation, or to enhance nutritional, horticultural and agricultural growing efforts, along with tests involving foods, liquids and biological preservation experiments of all types.
Please click on the images of our Pyramid Connecting Corners Kits.
Manufactured in the USA